---
The well reputed open-air baths overlook the gardens which reflect the changes through each of the four seasons.
---
0263-46-1120
1-29-17, Asama Onsen, Matsumoto, Nagano
The exterior view of the inn imitates Matsumoto Castle.
Located in the center of Asama Onsen resort, this is a quiet inn with a courtyard. The open-air baths with a view of the garden have a good reputation.
Spacious lobby
As you enter the large calming atrium of the lobby the weariness of your travel can be released.
Natural hot spring drawn water is supplied to all rooms.
The courtyard can be seen from the rooms. The rooms have large openings, lights, and a lot of space.
Courtyard
The well-groomed garden reflects the changes throughout each of the four seasons beginning with adonis flowers in earliest spring.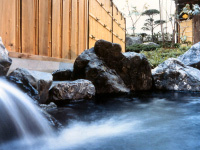 You can reach the open-air bath via the indoor bathing area.
Abundant hot water allowing bathing 24 hours a day. You'll have a hard time feeling a chill after this bath.
Our chef is recognized as one of Nagano's master chiefs.
Our Chef, having been trained at famous Tsukiji, has been recognized as one of the leading master chefs of Shinshu(Nagano) and serves the seasonal tastes of Shinshu.
Hand prepared soba
The hand prepared soba served here has over the years developed to be excellent and is available to a limited number of customers as supplies last. (example image only)
Number of Rooms/Capacity

35 Rooms/170 Guests

Accommodation Fee

Weekdays 2 Guests 2 Meals
¥10,500 to ¥18,900 per guest

Check-in/Check-out

3 PM/10 AM

Hot Spring Baths

Men's and Ladies' baths, Open-air baths

FAX

0263-46-1124