---
The color of the mountains reflects the four seasons.
We welcome our guests with our traditional hospitality.
---
0263-46-2385
3-13-10, Asama Onsen, Matsumoto, Nagano
Jacuzzi bath with a scenic view.
Enjoy the free open scenic view, as you feel the fresh breeze.
Exterior view
Exterior view of Hotel Omoto
Grand bathroom with a scenic view
Enjoy a panoramic view of the Alps as the mineral spring water tenderly warms your body through.
Shinshu Omoto's course dinner
Please enjoy the fine taste of hand prepared cuisine, which maximizes local Shinshu ingredients.
10 tatami mat sized guest room
The castle town of Matsumoto lies before you as the landscape of the Alps spreads out in the distance.
12.5 tatami mat sized guest room
Freed of everyday cares, enjoy a spacious room, as the night scenery of Matsumoto embellishes your travels.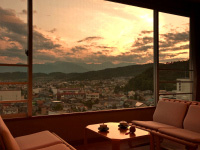 The scenic view from a guest room
The sun setting over the Northern Alps, providing you with a great moment of serenity on your travels.
Number of Rooms/Capacity

36 Rooms/170 Guests

Accommodation Fee

 Weekdays 2 Guests 2 Meals
¥14,000 to ¥36,000 per guest

Check-in/Check-out

3 PM/10 AM

Hot Spring Baths

Men's and Ladies' baths, Open-air baths, Private open-air baths, Rooms with an adjoining open-air bath.

FAX

0263-46-5047